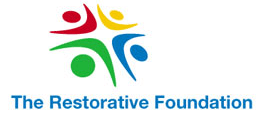 Restorative Practice
Restorative practice is a set of principles and practice that encourages children to take responsibility for their behaviour by thinking through the causes and consequences. Heronshaw School believes in building positive relationships between children, staff and parents. We believe that how people behave around one and another makes all the difference in the world. Therefore, we thrive to build positive relationships and to create a positive learning environment for all.
How do we do this?
These are daily sessions which all children take part in. A circle time is where everyone has the opportunity to speak and listen to others. The circle leader will encourage everyone to follow the school values to promote a calming and welcoming circle. The circles focus on feelings, attitudes, beliefs and opinions. Every Wednesday KS1 also take part in playground circles. This gives the children an opportunity to meet and take part in a new circle with different members of our school community.
We follow three simple steps when addressing any behaviour conflicts at school. This involves a range of open ended questions which supports the children in coming to a positive and meaningful conclusion. The members involved in the conflict will meet in a safe area where together they take time in talking to each other with the support of a restorative facilitator. The facilitator will ask what has happened, how it made them feel and what they can do to fix it. By consistently modelling this language we are encouraging children to take responsibility for their behaviour and to take ownership of what has happened. This overtime will become embedded in the children's mindset and they will take the first steps in fixing their own conflicts before involving the restorative leaders.
Every Tuesday the children take part in an activity called "Tell me Tuesday" this is to develop pupil voice and attitudes at school. During the circle time session children are asked a set question relating to them. They will then respond to the question by using the well-being chart. All results are then collected and collaborated between staff. Any changes can then be put into place by the School Council and staff
All children are introduced to the Well-being scale when they start their journey at Heronshaw. The scale works on numbers 1-5 and relates to a colour and emotion. This chart is used as a way for children to communicate how they are feeling throughout the school day. This is empowering the children to take responsibility of their own feelings and to recognise when they are feeling either a high positive emotion or a low emotion. Staff members also take part in this by showing the children how they are feeling on the well-being scale.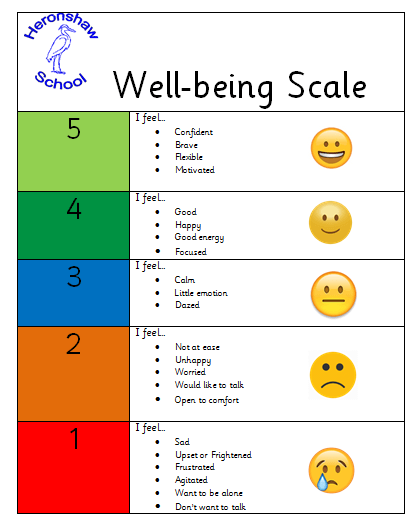 Where can I find out more information?
Feel free to come and speak to any member of staff about our journey or visit http://www.restorativefoundation.org.uk/