Heronshaw News

This page enables us to showcase the academic and extra-curricular achievements of our pupils and staff. Please click on the drop down menu next to 'News' to access our newsletters or follow the link here.

*NEW* eSafety week

5th - 9th February was eSafety week. The children focussed on different ways of keeping safe when online, such as using Hector protector (the dolphin icon that covers the screen). In assembly Mr Ainscow talked about age-appropriate technology and apps that the children should not be accessing. There were a surprising number of children in all year groups who said that they regularly go on Snapchat, Instagram, Facebook and other apps at home. The children thought about safer ways to access mobile devices and how to make sure that they always talk about worries and concerns with a teacher or parent.

In class, the children make leaflets and posters to remind others of the SMART rules for eSafety. You can read more about eSafety at Heronshaw school here.
Anti-bullying week

13th-17th November was anti-bullying week. The children took part in activities about Anti-Bullying. On Monday KS1 took part in drama workshops based around bullying. The children learnt what to do if someone is being bullied and how they could stop bullying.
On Tuesday Mrs Langford introduced the story The Little Bully to the whole school. In the assembly all the children thought about what made them unique and special. For the rest of the week in class the children took part in circles and created a star describing what makes them special. Look out for the stars that will be decorated around in the classroom.
Please feel free to follow this link to find out some more information on supporting your child in understanding Bullying.
www.anti-bullyingalliance.org.uk/anti-bullying-week.
Heronshaw Houses Launch Day

On Friday 6th October at Heronshaw all of the children came dressed to school in their new house colour. The reason for this was to celebrate the launch of our brand new house teams. Every child and member of staff has been placed into a coloured team. This year the teams are being named after lakes in Milton Keynes.
Team Blue = Tongwell

Team Red = Furzton

Team Yellow = Caldecotte
Team Green = Willen
On Friday the children were greeted with a welcoming assembly by Mr. Ainscow & Mrs. Langford. The children were introduced to the house jars and were sent away feeling excited and determined to win the trophy. The rest of the day was made up with team building games and activities. The children from each house had the chance to meet new children and work with different staff members. Here are some of the messages from the children.
" I loved playing with the parachute. It was so much fun!"
"My favourite game was with the hula hoop, we had to get it all the way around without letting go of hands!"
"Mrs Bramwell taught us all a chant for our house team"
After break our next activity was introduced and this was to create a team shield. All the teams were able to choose how they would like to decorate the shields and every child took part in creating their team shields. These shields are now going to be displayed in the hall school for everyone to see.
Both the children and staff had a fantastic day and are looking forward to working together, building a community and working towards a final goal.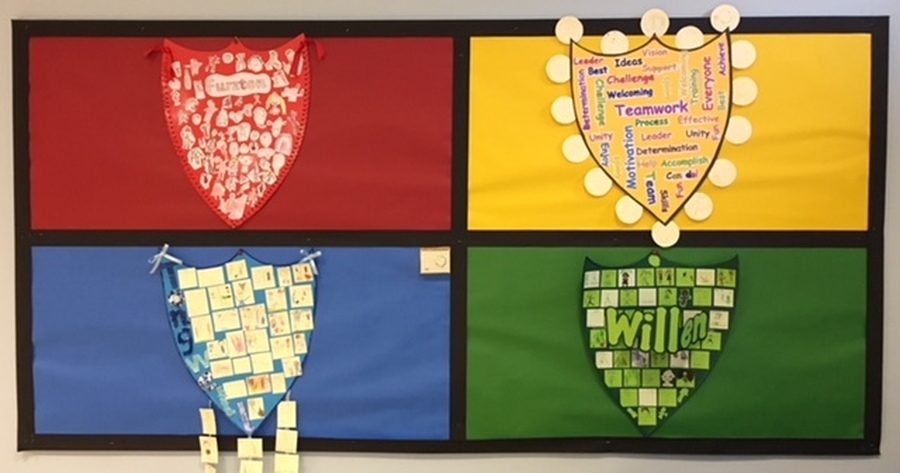 *NEW* Harvest Visit to Christ the King church in Kents Hill
On Wednesday 6th October 2017 the children walked to through Walnut Tree to the church in Kents Hill. Everyone sat beautifully and listened to a story about an apple growing from a seed. The children enjoyed joining in with tellling the story by doing some actions for the very British weather (sun, wind and lots of rain!).

Over the last few weeks Miss Hudson has been teaching the children a new song callled 'Cauliflowers Fluffy, Cabbages Green'. We sang it together and it put a smile on everyone's face.
NSPCC Speak Out, Stay Safe Safeguaridng Assembly

On Monday 10th July 2017 we had a special visitor, Kelly from the NSPCC. Kelly led an assembly with an important message for the children at Heronshaw School. The children met Buddy and watched a child-friendly film to explain ways to keep safe. Each child was given a sticker as a reminder about their assembly. This assembly was included as part of our ongoing focus on safeguarding.

The NSPCC's Speak out Stay safe programme, ensures all children learn this essential safeguarding information in a lively, interactive and memorable way. By the end of our visit we know pupils feel empowered and can speak out and stay safe.
With the help of our mascot Buddy, the programme provides child-friendly, interactive assemblies and workshops to help children:
understand abuse in all its forms and recognise the signs of abuse

know how to protect themselves from all forms of abuse

know how to get help, and the sources of help available to them, including our Childline service.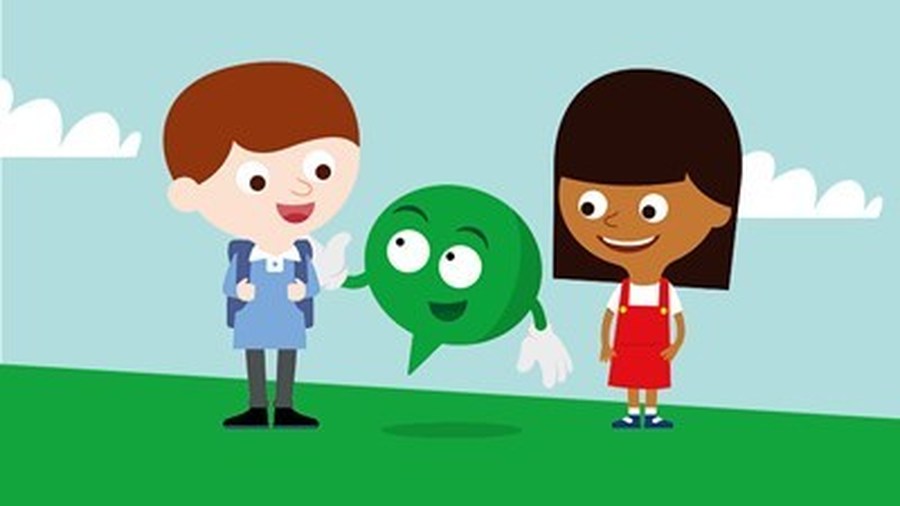 Heronshaw Celebrates 20 years

On Friday 7th July 2017 the whole school community came together to celebrate our milestone of 20 years. Throughout the week, all of the children worked hard to create bunting for decorating the outside area. The children also made a commemorative bookmark, animal mask, decorated biscuit, badge and more.
It was wonderful to see so many family members at our celebration picnic. Our new mosaic was unveiled by the winners of the bunting competition, Ellie from Lions class and Amy from Tigers class. Next the choir helped to sing our Heronshaw song which sounded lovely with children and parents joining in. The school governors also donated a heron statue along with a plaque. Look out for this in September.
After the picnic the summer fair was opened. We saw lots of smiling faces and lots of great activities. Thank you everyone for your support!
There was a lot of food donated for our picnic. We thought you would like to know that all perishable food was donated to the homeless and all other food has been kept for our end of year parties.
Of course this event would not have been the success it was without the hardwork and coordination of Miss Barnaby and Mrs Zastron along with our PTA. Thank you very much!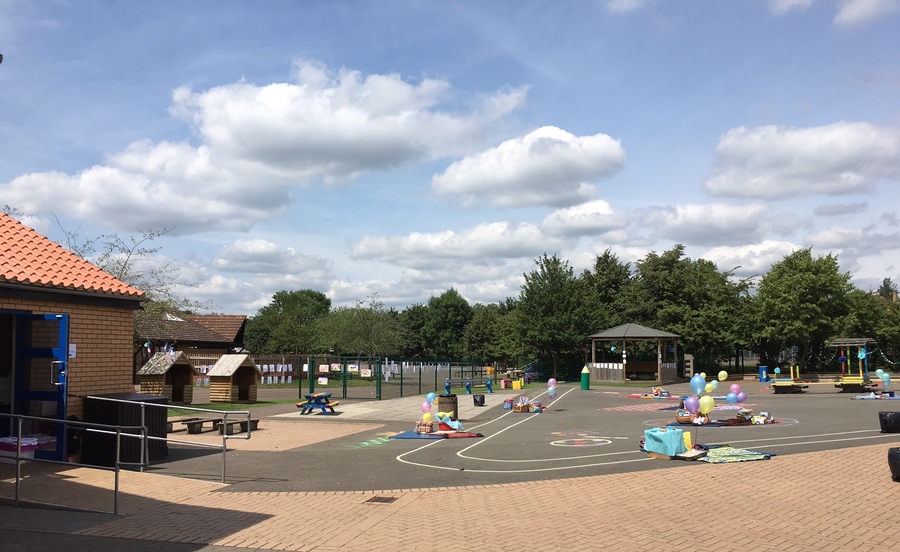 NED Show - Dave the Yo-Yo Man: 27th June 2017

On Tuesday 27th June, we has a very exciting start to the day. The children watched magic tricks and yo-yo tricks by the man from NED. The children have been inspired to try some yo-yo tricks themselves.

"I was amazed! I have never seen a man do magic tricks with a yo-yo before". (Phoebe - Crocodiles)
"A man called Dave came and told us a story. He showed us how to use a yo-yo and do magic. The best bit was the alien story and the rock-a-bye-baby trick". (Eli - Lions class)
"It was exciting! I liked the way the yo-yo swings around". (Bela - Bears)
"It was awesome!" (Christopher - Leopards)
"The NED show was funny because the man was making funny noises. He taught us to never give up and to always do your best". (Amelia - Leopards)
"It was fun when Dave made the Eiffel Tower with the yo-yo". (Neferah - Tigers)
"It was quite funny". (Zak - Pandas)
.
Theatre group visit performed 'The Selfish Giant': 26th June 2017

On Monday 26th June the children enjoyed an interactive performance of 'The Selfish Giant'. The actors taught the children new songs for them to help to perform. Some of the children were even selected to take part in the show. They even wore special costumes. It was great fun!


Here's what some of our children said...
"It was fun because I liked the giant". (Hugo - Bears)
"The giant didn't like the children that were in his garden. I liked the show". (Ellie - Crocodiles class)
"My favourite part was the giant telling the boy and girl off - it was funny!" (Isabelle - Lions class)
"The selfish giant was so, so spooky!" (Anushka - Tigers)
"I liked it because the giant was funny" (Tiff - Leopards)
"I liked the giant because he made friends in the end". (Vinnie - Pandas)
.
Year 2 Visit Hazard Alley: June 2017

On Tuesday 6th June and Thursday 8th June the children from Zebras, Gorillas and Giraffes went to visit Hazard Alley. The Milton Keynes Safety Centre, also known as 'Hazard Alley', was the first of the purpose-built interactive education centres for children built in the UK. The children has the opportunity to explore potential dangers in a variety of different situations.

Fletcher from Zebras said: "I thought that the best bit was the train station because it shoiws how fast a train goes past and how your feet stick to the metal".
Arin from Zebras said: "If you go to the petrol station you should never put petrol in a plastic cola bottle otherwise someone might accidentally drink it. My favourite part was the pretend fire house. We had to call 999!"
The road area of hazard alley raises the children's awareness of the need to find a safe place to cross a road and the distances vehicles take to stop. The subject of safer cycling is also discussed.


This staircase area is used to raise awareness of domestic fire safety precautions (smoke alarms, escape routes etc.) and teaches children what to do in the event of a fire in the home.



This building area is used to show that a building site is not a place to play and not a place that children should be without permission.
Click on the photos to view.
Olivia and Emily in celebration concert: May 2017

On Wednesday 24th May 2017 Heronshaw took Olivia Then-Ferris and Emily Hargan to the Infant Celebration Concert at Shenley Brook End School. They took part in a rehearsal, small group performance and a large ensemble performance in front of a huge audience and were amazing! Not only did both girls play their violins brilliantly but they joined many other school children to create a wonderful concert.
Well done Olivia and Emily!