Reading incentive
Reading incentive
16 January 2020 (by Natalie Guntrip (missguntrip))
Whole school reading challenge!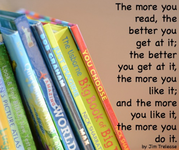 The aim of the reading challenge is for every child to read at home at least 6 times a week.
Each child will be given a bookmark to take home daily. The bookmark needs to be signed by an adult if a child reads at home that day, this can be reading a book, reading a shopping list, a magazine, a newspaper, ingredients, recipes or instructions! This all counts as reading at home! The signed bookmark will be collected daily by the teachers who will reward the children with a star on the reading chart outside their classroom.
On a Friday the children who have at least 6 signatures will be entered into a class prize draw. One lucky winner will be picked and can choose a treat of their choice!